Top Vitamins & performance
Mixtures of plants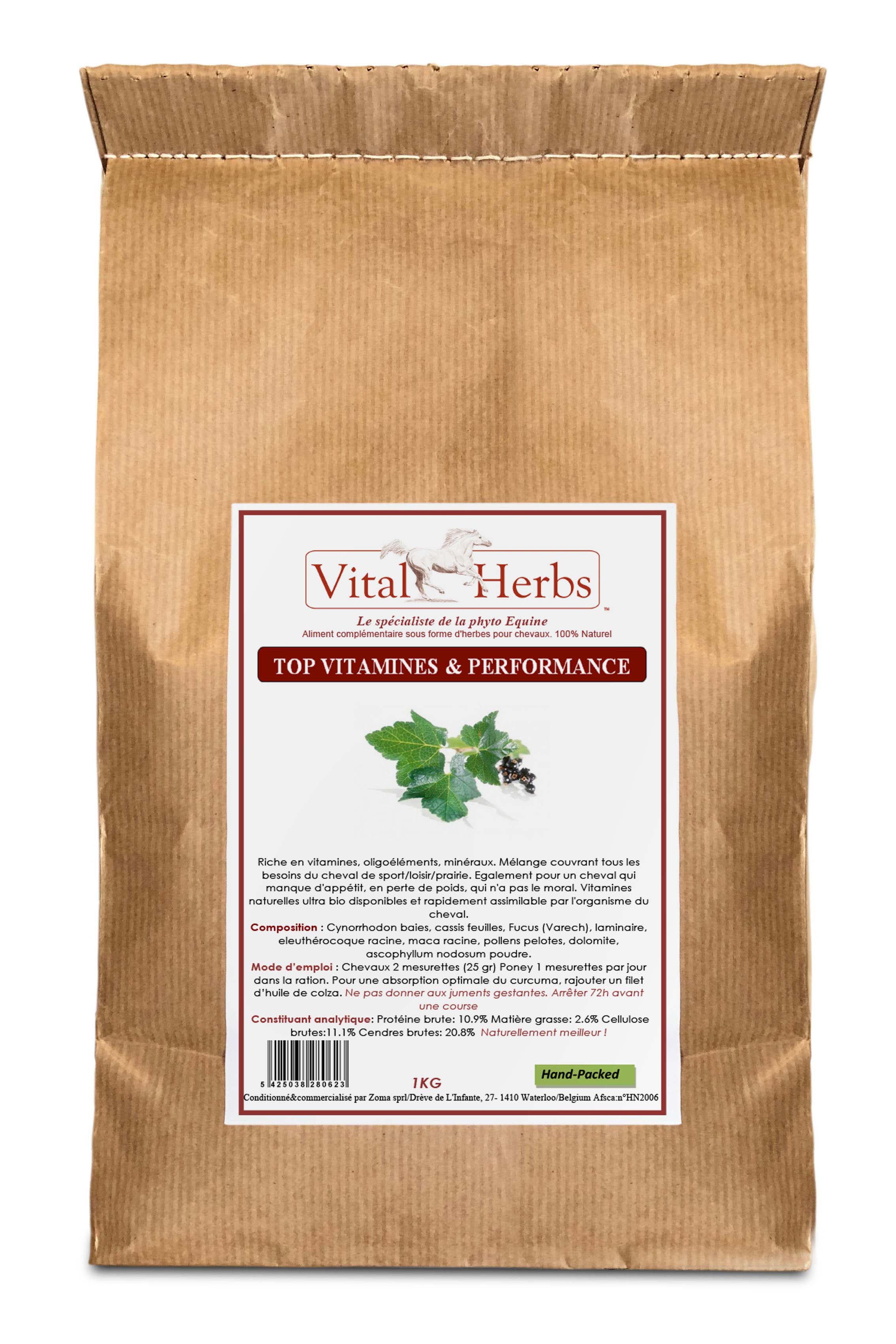 A unique and innovative composition. Top Vitamins&Performance is an ultra complete herbal blend that covers all your horse's nutritional needs for vitamins, minerals, amino acids and oligo elements. The vitamins come from natural sources and are highly bioavailable and rapidly absorbable by the horse's organism. Top Vitamin visibly enhances the horse's performance and endurance and strengthens its immunity. It is also suitable for a horse with a poor appetite, that is losing weight and is dispirited. Pollen enhances the vital energy of the horse. It is a natural substance with recognised properties. We insist on the fact that pollen collected by bees has nothing to do with pollen transported by wind which causes respiratory allergies. Dolomite is an exceptionally rich mineral with a balanced calcium and magnesium content. It helps remineralise and relieve stress and fatigue. It's a fine anti-fatigue and super tonic agent. The blend does not heat up the horse.
Vitamins A,B1,B2,P,K,C,D,E mineral salts.

Iron, zinc, manganese, copper, potassium, selenium magnesium, calcium.

Enhances endurance and muscular capacity

Horse that has lost its appetite, is tired, thin, dispirited

Regulates the nervous balance

Invigorates and stimulates without exciting the horse

Balanced remineralisation

Maintains the muscle tone in case of strong exertion

Contains no synthetic vitamins.
Ingredients: Wild rose hips, blackcurrant leaves, Kelp, brown algae, eleutherococcus, maca (Lepidium meyenii), pollen, dolomite.
As a precaution, stop Booster three days before a competition, may contain traces of eleutherosides.