Fly Away Head Stick
External care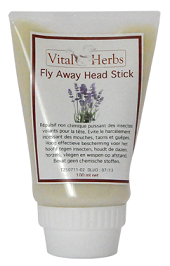 Fly Away head stick is a natural repellent that prevents constant harassment from flies, horse flies, hornet and wasps. The stick has an ever-so practical applicator for the most sensitive areas: head, eyes, nose, sheath, etc. Completely safe to use. The formula is thick to resist sweat; up to six hours of protection. Your horse is protected in an extended and natural manner with a solution based exclusively on essential oils. Fly Away stick does not stain the horse or the rider, and has a pleasant odour.
Composition: Glycerine, tomato and geranium extracts, 10 essential oils including: peppermint, eucalyptus, cinnamon, Lemon grass (Cymbopogon citratus) and plant extracts and non-chemical solvent. Gel formula.
Usage and application: For horses at rest, apply once a day. For horses at work, every three hours.Can be used in competition. 100 ml applicator tube.